Painting can transform the look and feel of any room. Whether you want to add a splash of color to a dull space or refresh a tired-looking area, interior painting is an effective and affordable way to update your room. Before painting, it's important to consider various factors such as your budget, timeline, and personal choice.
Do you want your home or office space to have a fresh new look? If so, you may be wondering if interior painting is the right choice for you. We have shared some insights and tips to help you understand interior painting and know how to go about it. 
Let's proceed!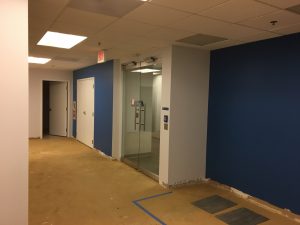 Signs That You Need Interior Painting
Fading or peeling paint
When was the last time you painted your home? If you painted your home a long time ago, you would begin to notice telltale signs of peeling, spidery cracks, and holes on the paint surface. Large strips of paint begin to pull off on their own. This can be a result of dirty walls, excess moisture, or water leaks. But this points to one thing you need to repent of your home.
Stains or marks on walls
If you notice a stain or mark on your painted walls. The first thing to do is try to clean it. You probably have some oil stains on your wall painting, and you have been trying to clean for a long while and you're not making any progress. Some of these stains are very stubborn and if you try harder, you could ruin your wall. If this is the case, your wall is telling you it needs repainting.
Outdated or unappealing color scheme
Colors like gray, pink, or red are going out of style. And with colors like these, your home will look outdated. If the interior paint is not cool, or you just feel there is something wrong with your house, then it needs interior painting.
Wear and tear from everyday use
After some years of living in your home. You just discover your paint is fading or peeling out. After a few years, your paint wears out. If your house is painted well, your paint can last up to 10 to 15 years, after which it wears and tears. To keep your house invoked and welcoming you need to do an interior painting.
Benefits of Interior Painting
Improved the aesthetics and ambiance
Painting your home will transform your home's interior look and feel. With the right color, you can make small spaces bigger and bigger spaces smaller. Using a bright color would make your home feel more welcoming and vibrant. Pastels will give your bedroom a cozy and calm feeling. You can give your living room a new look by just painting it. Apart from making your room feel bigger and cozy, painting makes your room beautiful giving it a nice ambiance.
Increase your home value
Doing an interior painting for your home will increase the overall value. Interior painting is very significant and adds value to your home. If you're planning to sell your home, painting it makes it more appealing and increases the market value.
Enhanced air quality
Painting your home improves the air quality of your home. Painting your home will reduce dirt and dust to an extent. Painting your home will make it a safer environment for both your children and pets. They are prone to allergies or respiratory issues. Repainting your home will prevent the growth of mold and mildew that could lead to bronchitis or asthma.
Protection from damage and wear
Interior walls could be damaged due to continuous harsh weather. Accommodating lots of people in your home could damage and wear out your home easily. Painting your home will keep your interior wall surface free from stains and marks that could damage your walls. A fresh coat of paint would do the trick and protect your walls from moisture and the growth of mold and mildew.
Factors to Consider Before Painting
Budget and cost of materials
Do you know the total cost of painting your home? Calculating the cost of painting is the first thing to do before painting. The entire budget will depend on the size of your home. Make the money available, so you don't need to stop halfway through painting. When budgeting, make sure you go for the best paint. They would cost a bit extra but they will last longer. Also, make other materials for painting available.
Time and effort required for painting
Spring and fall are the best times to paint your home. There is less moisture during this period, which reduces the chances for mild or mildew to damage your paint. Painting in winter is not advisable, rain could fall at any time, not allowing the paint to dry. 
Color and design choices 
Before you begin to paint. Consider the color of paint that would fit your interior perfectly. Complementing colors could unify your home design and give you your desired look and feel. There are so many colors. Choosing the perfect color may be difficult. That is why you need to be careful. If you're not certain of what color would suit your home, then ask for the help of a professional.
Tips For a Successful Interior Painting Project
Proper preparation of surfaces
Before painting, proper preparation should be done, many people make these mistakes. Painting your home is an essential task that needs to be done carefully. Before painting, prepare your surfaces for painting. Sealed cracks, Smooth, and clean your interior walls thoroughly to prevent dirt and dust from ruining your work.
Protect Your Items from Paint
Before starting your painting project, cover all of your belongings to avoid paint splatters. One option is to use large sheets of plastic to cover furniture and other items, preventing any damage. Also, placing plastic on the floor can prevent paint from splattering on floors or other surfaces that you wish to keep free of paint droplets or spills.  
Go for quality paint 
While it may seem like a good idea to use less expensive paints over quality paints, this is a mistake that you should avoid at all costs. Painting is an investment, and if you want it to last for a long time. You must select top-quality products. High-quality paint results in a smoother and more uniform appearance on your walls that can last twice as long as cheaper paints. 
DIY vs Hiring a Professional 
DIY and a professional painter. Who would do the job better, you can decide that yourself.
DIY interior painting 
It may be a cost-effective and considerable option. You could add some personal touch and have a sense of accomplishment. But it has some bad sides.
You could easily make a mistake with colors and designs 

Physical and potential hazards from painting material. The problem with DIY, if you make a mistake you might need to start over again from scratch, which will cost you more.

It is time-consuming 
Hiring Professional Painters
On the other hand, it would be your safest option. With a professional, you don't need to trouble yourself with the process. You just tell them what you have in mind and they will make it a reality.
Professionals have experience and have the perfect techniques and products for painting.

Time-saving: Professionals use less time to complete a painting job.

They give attention to details; use quality materials and have the right tools.
Do You Need an Interior Painting Now 
With a fresh coat of paint and the right quality of materials, you can transform the feel and look of your home. Whether you're looking to update a single room or revamp your entire interior.
We in Color house painters, having experience for years, know what color is the best for your interior walls. You can talk to us about what you want, while we tell you what will be the best. In the end, you'll have a well-painted home as the finished work of our service. We are affordable, and we have a courteous staff. Reach out to us.